AIMAG 2013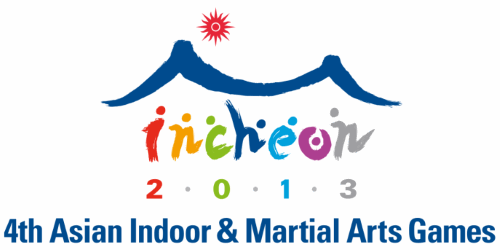 WAKO INDIAN team participated in 4th Asian Indoor & Martial Arts Games Incheon 2013, 29 June to 6 July, Incheon, South Korea Held under the patronage of OLYMPIC COUNCIL OF ASIA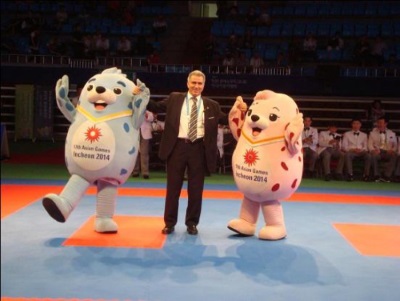 Korea hosted the 4th Asian Indoor & Martial Arts Games in Incheon from 29 June to 6 July 2013 for the first time after the merging of Asian Indoor and Asian Martial Arts Games. A total of 12 sports were approved for the 2013 Asian Indoor and Martial Arts Games. Bowling, Chess, Cue sports, Dancesport, Electronic sports, Futsal, Go, Indoor kabaddi, Kickboxing, Kurash, Muay, Short course swimming.
The Kickboxing competition under the management of Nasser Nassiri, WAKO Vice President and President of WAKO Asia had amazing success.
There is not a better way to describe today's Incheon, the City that hosted the 4th Asian Indoor & Martial Arts Games (the previous times WAKO ASIA was the organizer at 2009 Vietnam Indoor Games, Bangkok 2009 Asian Martial Arts Games and 2007 Macau Asian Indoor Games). Incehon, literally 'wise river', formerly romanized as Inchon, is located in northwestern South Korea. The city was home to just 4,700 people in 1883. Today 2.76 million people live in the city, making it Korea's third most populous city after Seoul and Busan. Incheon has since led the economic development of Korea by opening its port to the outside world, issuing in the modernization of Korea as a center of industrialization.
It was in Incheon that the OCA wanted to hold the 4th Asian Indoor & Martial Arts Games which saw Incheon pulling out all the stops to make a good impression. These games represented by far one of the most important sports event ever held in the history of Korea. It consisted of organizing tournaments in 11 sports with 45 Olympic Committees involved 4,400 people (Athletes, Officials, Media, etc.) including 2400 athletes competing in different activities, excluding number of operators, security agents, opening & closing ceremony staffs. Kickboxing, which presented a competition only in Full contact, Low Kick and Point fighting in 9 different weight divisions between men and women, brought to Incheon 93 athletes representing 15 Asian Olympic Committees such as Korea, Jordan, India, Iraq, Kuwait, Mongolia, Syrian, Uzbekistan and Kyrgystan and etc... There certainly would have been more were it not for the economic crisis, which is rampant in that part of the world as well, forcing athletes from the Philippines, Malaysia, Sri Lanka and Nepal to stay at home.
Nasser Nassiri, WAKO vice-president and President of WAKO Asian Kickboxing Federation together with his team in particular the leaders of WAKO in Korea (Suntaek Kong and Enucheon Jeong) did an excellent job of running the show during the 4 days of competition.
Nassiri brought one more time the competition to a conclusion without mishaps and with a well-balanced distribution of the available medals, showing that kickboxing in Asia is by now the patrimony of all WAKO Asia members.
Ms. Rajni Devi (Uttarakhand) from WAKO Indian Kickboxing team won Bronze medals in –56 kg Low Kick Women. The selection of WAKO Indian team were based on the Indian National Kickboxing Team Selection trails, held on 30th April & 1st May 2013 at South Calcutta Physical Cultural Association, Rasbehari Gurdwara Park, Kalighat Mandir, Kolkata as per the guideline lead by Technical Committee of WAKO India.
| No. | Surname | Given name | Status | Event | Medal |
| --- | --- | --- | --- | --- | --- |
| 1. | Sharma | Vinod | Athlete | 57 kg Full Contact Men | - |
| 2. | --- | Vishal Kumar | Athlete | 71 kg Full Contact Men | - |
| 3. | Bhardwaj | Mohit | Athlete | 63.5 kg Low Kick Men | - |
| 4. | --- | Jasvir | Athlete | 81 kg Low Kick Men | - |
| 5. | Joshi | Makarand Vilas | Athlete | 63 kg Point Fighting Men | - |
| 6. | --- | Somveer Singh | Athlete | 74 kg Point Fighting Men | - |
| 7. | --- | Ritu | Athlete | 56 kg Full Contact Women | - |
| 8. | --- | Rajni Devi | Athlete | 52 kg Low Kick Women | Bronze |
| 9. | Yambem | Tala Chanu | Athlete | 55 kg Point Fighting Women | - |
| 10. | Das | Montu | Team Official | | |
| 11. | --- | Gursharan Singh | Team Official | | |
| 12. | Sarungbam | Umakanta Singh | Team Official | | |
| 13. | Jangra | Sanjeev Kumar | Team Official | | |
| 14. | Tamboli | Chandpasha Ahmedhusen | International Technical Official | | |
| 15. | Agarwal | Santosh Kumar | International Technical Official | | |
| 16. | Tamboli | Omarmukhtar | International Technical Official | | |