AMAG 2009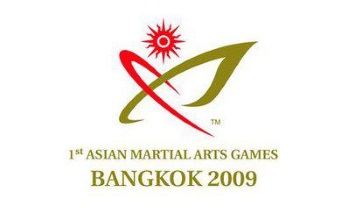 WAKO INDIAN team participated in
1st ASIAN MARTIAL ART GAMES 2009, 1-9 August, Bangkok, Thailand
Held under the patronage of OLYMPIC COUNCIL OF ASIA
1st Asian Martial Arts Games 2009 was held under the patronage of Olympic Council of Asia (OCA) from 1-9 August at Bangkok, Thailand. WAKO Indian Kickboxing team excelled with one Gold and three Bronze medals in the event.
Ms. Laxmi Tyagi (-52 kg Women, Low Kick) of Delhi defeated her opponent from Mongolia in quarter final and then Kazakhstan in semifinal round and finally defeated Thailand and own Gold medal for the country. It was a remarkable achievement in the history of WAKO Indian Kickboxing by defeating such strongest fighters from those countries. 18 countries in total took part in Kickboxing sport through their respective NOC.
The event included 9 Martial Arts disciplines along with Kickboxing i.e. Karate, Taekwondo, Muaythai, Jujitsu, Judo, Kurash, Wushu & Kung Fu and Pencak Silat.
| No. | Name | State | Event | Weight | Medal |
| --- | --- | --- | --- | --- | --- |
| 1. | Laxman Koli | Maharashtra | Full Contact (M) | 71 kg | - |
| 2. | Sanjay Katode | Maharashtra | Full Contact (M) | 75 kg | Bronze |
| 3. | Mohit Bhardwaj | Delhi | Low Kick (M) | 57 kg | - |
| 4. | Arun Singh | J&K | Low Kick (M) | 71 kg | Bronze |
| 5. | Rajesh Dalal | Haryana | Low Kick (M) | 81 kg | - |
| 6. | Laxmi Tyagi | Delhi | Low Kick (W) | 52 kg | Gold |
| 7. | Heena Nasreen | Delhi | Full Contact (W) | 56 kg | Bronze |