WCG 2013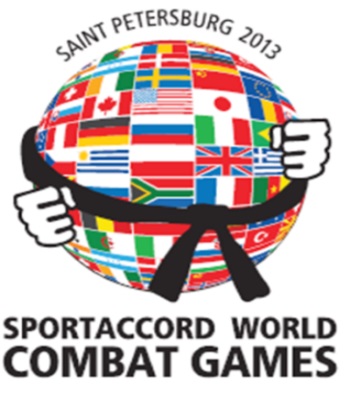 Second edition of SportAccord World Combat Games
Due to the great success of the first edition of SportAccord World Combat Games in 2010 in Beijing, the second edition of SportAccord World Combat Games was organised from 18-26 October 2013 in Saint-Petersburg, Russia.
SportAccord World Combat Games is an international sporting event which promotes values of self-control, determination and technical mastery, the Martial Arts and Combat Sports integrate elements of culture, wisdom, friendship to create an elite sports competition - the Art of Combat.
The Games featured 15 Martial Arts and Combat Sports, Aikido, Boxing, Fencing, Judo, Jujitsu, Karate, Kendo, KICKBOXING, Muaythai, Sambo, Savate, Sumo, Taekwondo, Wrestling, Wushu.
Additionally, the Combat Games featured Cultural Program reflecting the ancient traditions of martial arts as well as the social and cultural values of the 15 sports and the event as a whole. Topics dealt with the cultural dimensions of the martial arts and their social value and contribution to society.
Core Elements
15 Martial Arts and Combat Sports
Internationally-elite competitions with 1300 of the world's best athletes
World Anti-Doping Agency (WADA) Code compliant doping controls
IF run and regulated competition equipment standards
Timing, scoring and results technical services provided by Swatch Group
Socio-cultural and educational programmes
Doping-free sport and sports' integrity awareness education
Sustainability initiatives and reporting
Festival-style sports presentation and entertainment
Ambassador programme
Exhibitions
The 2013 SportAccord World Combat Games were organised by SportAccord in close collaboration with the Russian Union of Martial Arts (RUMA) and World Combat Games - 2013 Directorate responsible for organisation and promotion of the Games.
Participation of WAKO INDIA KICKBOXING TEAM:
The following four athletes participated in 2013 SportAccord World Combat Games at Russia, which were qualified and selected on the basis of performance given at the "WAKO Asian Kickboxing Championship 2012", held from 25-30 December at Balewadi, Pune, India (held with the approval of: Ministry of Youth Affairs & Sports, Govt. of India) where a tuff competition was given by the participants from across 14 Asian countries.
| No. | Surname | Given Name | Gender | State/UT | Status | Event |
| --- | --- | --- | --- | --- | --- | --- |
| 1. | Katode | Sanjay Madhusudan | Male | Maharashtra | Athlete | 84 kg Point Fighting Men |
| 2. | - | Deepak Singh | Male | Punjab | Athlete | 63 kg Point Fighting Men |
| 3. | Khade | Yogita Yashwant | Female | Maharashtra | Athlete | 60 kg Point Fighting Women |
| 4. | Thapa | Guma Kumari | Female | U P | Athlete | 56 kg Full Contact Women |
| 5. | Tamboli | Chandpasha Ahemadhusen | Male | Maharashtra | Official | International Technical Official |
| 6. | Jangra | Sanjeev Kumar | Male | Uttarakhand | Coach | WAKO INDIA |
| 7. | Kalyan | Anil | Male | Rajasthan | Coach | WAKO INDIA |
To access the 2013 edition website of World Combat Games in Russia, click here